All PLANET EARTH groups supports:
PLANET EARTH UNDERWATER
has over 1,000 members and over 41,000 photos and videos.
GREENPEACE
Kingston, Jamaica – Marine scientists from around the world have issued a stark warning about the emerging industry of deep sea mining, stating that its development "puts the overall health of ocean ecosystems under threat" and could contribute to climate breakdown. [1] Greenpeace activists went to the International Seabed Authority (ISA) annual meeting in Kingston, joined by the members of Jamaica Environment Trust and representatives of several other Jamaican civil society organizations, to deliver a  letter of concern by 28
scientists from eight countries to the participants of the meeting. A banner was unfurled at the event which said "No deep sea mining" as Greenpeace demands protection of the sea bed and global oceans.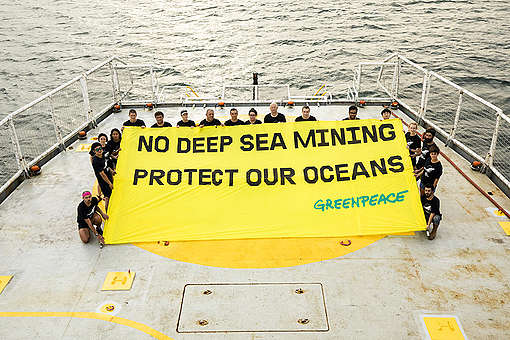 Activists from around the world have sailed on board the Greenpeace ship Esperanza, to join in a peaceful assembly in front of one of the battlegrounds for protecting the deep oceans from monster mining machines: the International Seabed Authority (ISA), which is hosting its 25th Assembly in Kingston, Jamaica.
Top Contributors
BarryFackler
bodiver
bluewavechris
edpdiver
Digidiverdave